7UPTHEME WITH JIVOCHAT – Best live chat for WordPress
Recently, we officially compatible and support all our products using the chat feature provided by Jivochat. All customers using our theme will be consulted and use this feature.
Jivo chat is a pretty chat application and utility. With easy to use, simple management interface, easy to manage. You can register an account and easily insert the application into the website, regardless of platform. We believe it is a good and useful application for your website.
Give your team tools to respond lightning fast
Agents receive all chats, emails, and calls in one Jivo app, so no more time-consuming fumbling between different windows. The result? Efficient client/agent communication, less distraction, and all the necessary tools to provide exceptional customer support.
Why JivoChat live chat? Times are changing!
Clients prefer texting more than calling these days.
Perfectly Designed
The JivoChat widget fits
perfectly in a sidepanel on your
website
Works on any Device
Every modern OS,
browser, and mobile device
is supported
Translated into 20 languages
Every word in the chat widget
is customizable to be understandable
in your local language
Visitors still leaving your site?Engage them immediately with proactive invitations!
Every month, millions of JivoChat messages begin with proactive invitations.Just like being greeted at a physical store, this sort of friendly gesture goes a long way.
… and visitors are more likely to become your customers.
For example: Imagine you manage an accesories e-commerce site. If your web page was visited 3 times and the current page visit is longer than 10 seconds,… then why not display the following message: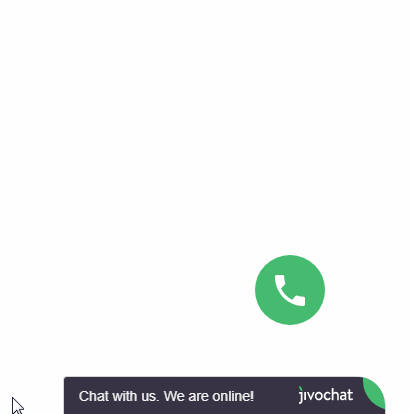 Get on the phone with clients
in 30 seconds or less
1. After a visitor requests a callback, all your agents'
phones ring at once.
2. When one of the agents answers the call,
all other phones stop ringing and Jivo calls the visitor.
3. The agent who answered the call first
is connected with the visitor.
Live Chat for Websites
Jivo Business Phone
Callback
Company`s Email Integration
Facebook Integration
Mobile SDK
API for Developers
Integrations
Mobile app